Artificial intelligence in support of change
Research and consultancy
Artificial intelligence in support of change
As the pace of change increases, it must be able to react to the current situation, but also to make strategic decisions in the long term, with a view to the future. We are able to produce a real-time snapshot of change and help our customers create better solutions for the future – thanks to advanced artificial intelligence solutions.
Where can artificial intelligence be used?
Update your strategy to the changed situation
The operating environment is changing, which means that the company's strategy must also adapt to it through critical decision-making. But when to make changes and in what direction? With an advanced artificial intelligence-based solution, data can be analyzed quickly and efficiently, providing decision-makers with a real-time, up-to-date picture of a company's status and operating environment.
Understand the changed expectations of your employees and customers
Major changes also offer new opportunities. The solution provides up-to-date information on customers, employees, competitors and the market, on the basis of which change policies can be targeted efficiently and in a timely manner. The development should not only be visible from the outside, but also felt inside.
We are able to implement the above-mentioned entities in cooperation with Aiwo Digital. How can this be utilized in your organization? Would you like to consider it together?


Agile deployment process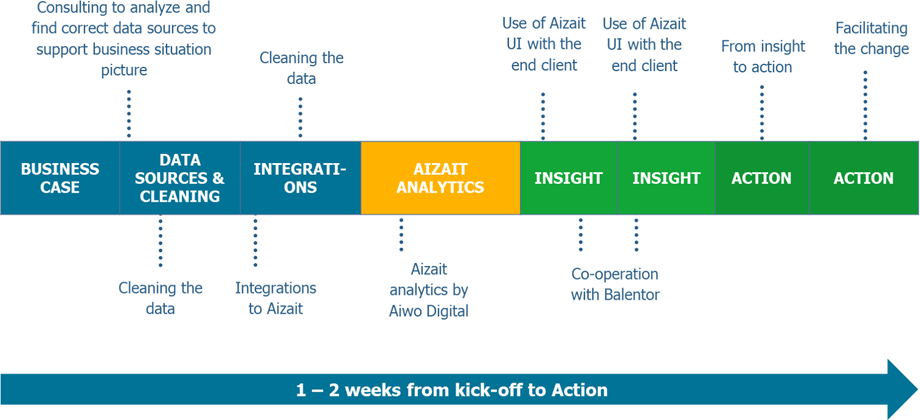 The productized solution enables the agile implementation and utilization of the service in business development. In addition to advanced analysis tools, we help our customers leverage analysis and integrate the solution into the management system.
Customers using the solution